A collection of love-story inspired artworks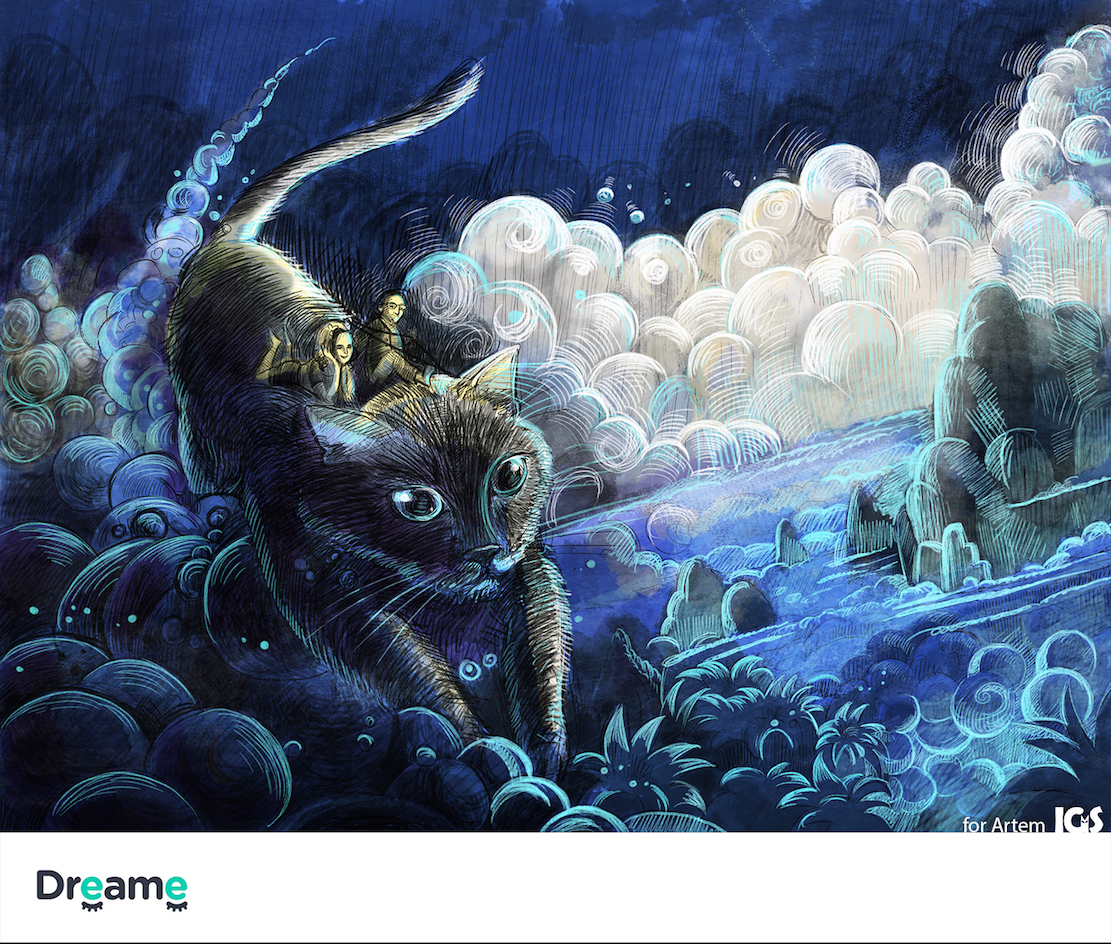 Kiss and Tell
A Dreame Love Story
A word from one of our dreamers
Yuval and I have an open relationship with our dreams. We share them with as much ease as a blanket or a piece of cake. We've made it habit to swap dreams first thing in the morning, so we had no problem coming up with the dreams we wanted artified.
My dream was that Yuval and I were talking to a man, he asked us what our most valued items were. I told him mine was my pet rat peanut. Yuval told him his was a really rare snail shell and had the snail shell on him at the time. It was small and white and he held it on the end of a stick. I look at him and laughed, of course that is your favorite object I said.
This part is true: I woke up that morning and told him about the dream. He grinned and proudly showed me his rare snail shell from Brazil. It's really super special he said.
His dream came in the first few months of our relationship, just when we were becoming serious and I was considering a move to a different country. In his dream we were super tiny and we were dancing. I had on a red gown and he was wearing tuxedo.
We added a picture of us together and our favorite song, Johnny Cash's 'The Wanderer.'
Choosing the artist was a bit more challenging. We have very different styles and tastes, myself leaning toward the obscure and abstract while he likes clean and colorful. After reviewing all of the Dreame artists, we agreed that Michal Perlman was extremely talented and that her style best complimented the content of our dreams.
In the time between sending our dreams and receiving our art, we corresponded with Michal, clarifying details and swapping ideas. My excitement was increasing with each email exchange and Yuval asked every day when we would have our art.
A week later, when I opened our Dreame piece for the first time, I was immediately struck by beauty of the art work. The pastel colours mixed with the iconic red sun gave it a style that can only be described as a vintage Valentine-propaganda poster.
As I admired the piece I realised it was eerily telling of details I had not shared. In the work, Yuval and I are sitting on the beach, in the exact spot we went to for our first 5 dates, something I had not relayed to Michal.
In our piece Michal added Johnny Cash. Though I sent Michal the song by Johnny Cash that Yuval and I love, what I didn't tell her is that we both have a rather obscene obsession with him. Having Cash's image admiring Yuval and I added such a special element to our custom work.
I cannot know how Michal connected with certain places and details in a way that so aligns with our relationship. I can know that this is the power of Dreame, the coalescing of minds and visions. Dreame invokes the profound strength in sharing—handing a stranger a piece of the imagination and allowing him or her to sculpt and mold the vision.